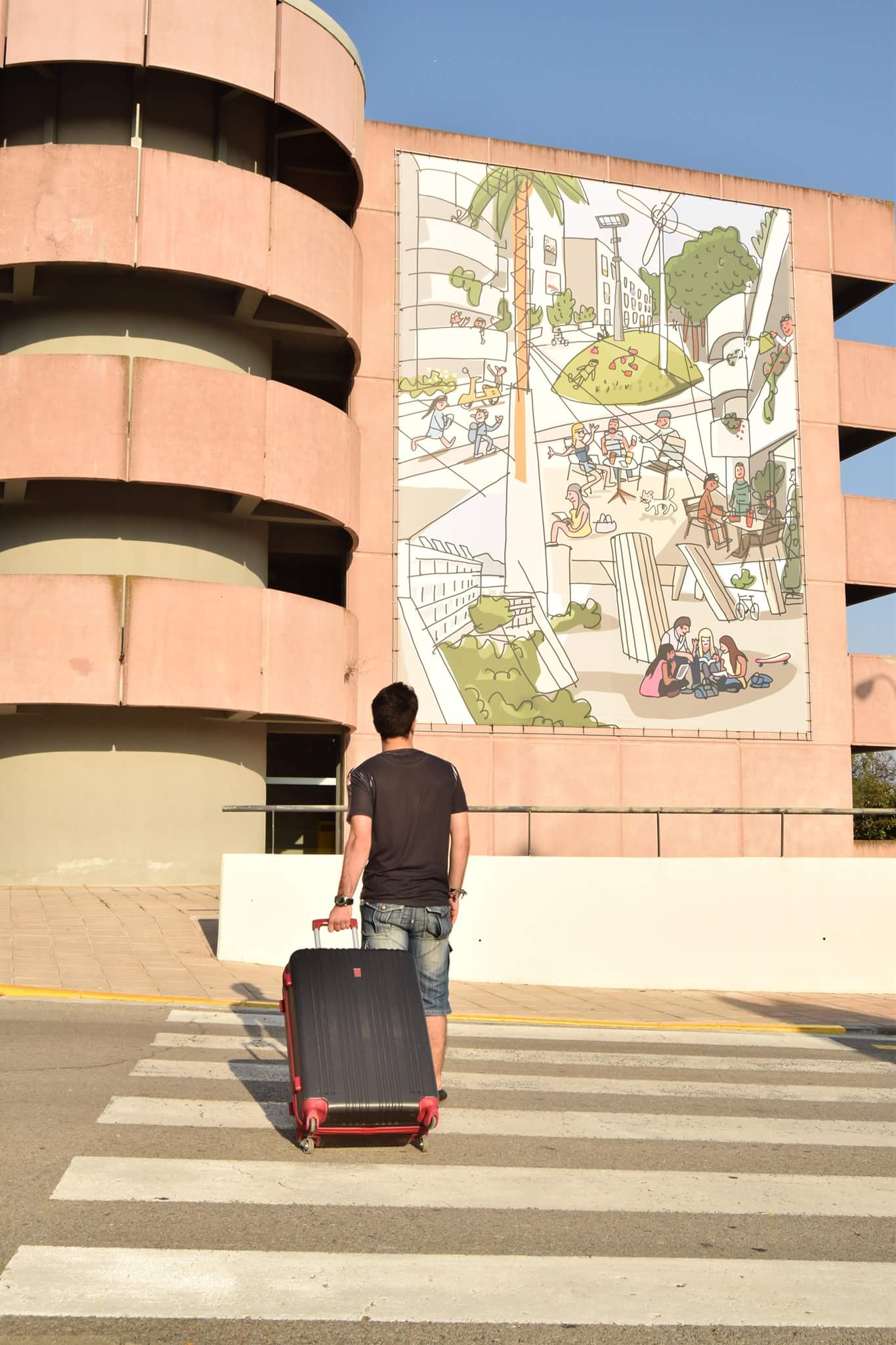 First day in Vila. What do I do?
Coming to the UAB on September?
You're going abroad, starting a new life… it's normal if you're a bit stressed out!
When you arrive in Vila (read this if you don't know how to get here), there are a few things you need to know. Here we go:
1. Sign the contract:
Once you get here, you'll have to come to the reception to sign your contract. You'll need:
Your Passport or ID.
A credit card in order to pay the second deposit/bond (what's that?).
A Spanish bank account OR your regular bank account details. Please, ask your bank to print for you a document with your bank account details and bring it the day you sign the contract.

YOU DO NOT need a Spanish bank account if your country belongs to SEPA (check your country here). In this case, you'll only need your regular bank account details (although, if you prefer to open a Spanish bank account and use it, that's completely up to you).

YOU NEED a Spanish bank account if your country doesn't belong to SEPA. If you haven't opened one yet, don't freak out. We recommend you to do so here on the UAB Campus. Why? Because it's much easier and if you are living in Vila Universitària just by showing your contract and passport or ID you'll be able to open it with no extra costs. Also, they'll send you the details via e-mail.

When your contract has been signed, come to the white tend (in front of the office).
2. Entrance inventory:
The block representatives team, veteran students who live in Vila, will give you some important information.
You'll have to sign a document that we call "Anexo Covid". On that document, we explain your that your apartment has been checked, and everything is in good state. When you get to your place, it is recommended to check if everything is fine. If you find something unusual (like stains on the wall, or something broken) let us know.
3. You are in the apartment!
Now, it's time to meet your roomies! If you're too impatient to way until your arrival to meet them, you can try to find them on our Facebook group VilaUAB 2021-2022 by asking who will live in your apartment next year.
If you don't know what to pack, or what to buy when you get here, check this out!
Although, and this is cool, many international students recommend to talk to your roomies and ask them if you can lend some of their stuff, so you don't have to buy it once you get here!
Locals may have plenty of stuff back home they don't even use: cutlery, bed sheet, pillows,… Those things you won't be able to take back home if you buy them.
Laura, local student living in Vila: "As a local, I assure you it's not a big deal for us to borrow some stuff to international students, and for you guys is nice not to have to buy it all and then decide what to do with them once you go back home. I lived abroad and I didn't have to buy anything, I was very lucky! My local friends lend me everything I needed because their parents and grandparents had a lot of stuff they didn't use at home. I'd be more than happy to do the same with internationals!".
4. Welcome Meetings:
We organise welcome meeting every year, but of course this time is different due to Covid.
So far, we don't have anything organised, but if we will, we'll post it on our social media: so follow us!
5. September's activities:
Usually September is a non-stop month, buuuut, again… Covid. Follow us on Instagram and, if we organise something, you'll find out 😉
If you want to know what's going on in Vila, follow us on @vila_universitaria (official IG account) and @whiskers_vilauab (block representatives, advisors and other programs).
6. How to keep up with what's going on in Vila during the semester?
Being informed is not just useful to know if there's a fiesta, you may also need to know other important stuff apartment-related.
We recommend you to follow us on social media, so you don't miss a thing!
Facebook: Vila Universitària UAB
Instagram: vila_universitaria
YouTube: VilaTV
7. VilApp
This app is really useful if you want to check your bills, the activities, and also if you need to let us know if there's something wrong in your apartment (the microwave doesn't work, the fridge is not cold, etc.)
8. Our opening hours: 
The reception is open from Monday to Friday from 8 am to 8 pm. Although, we have Security 24/7, also over the weekend.
And that's it! Enjoy your Summer (or Winter…), and recharge batteries!
See ya in September! 🙂