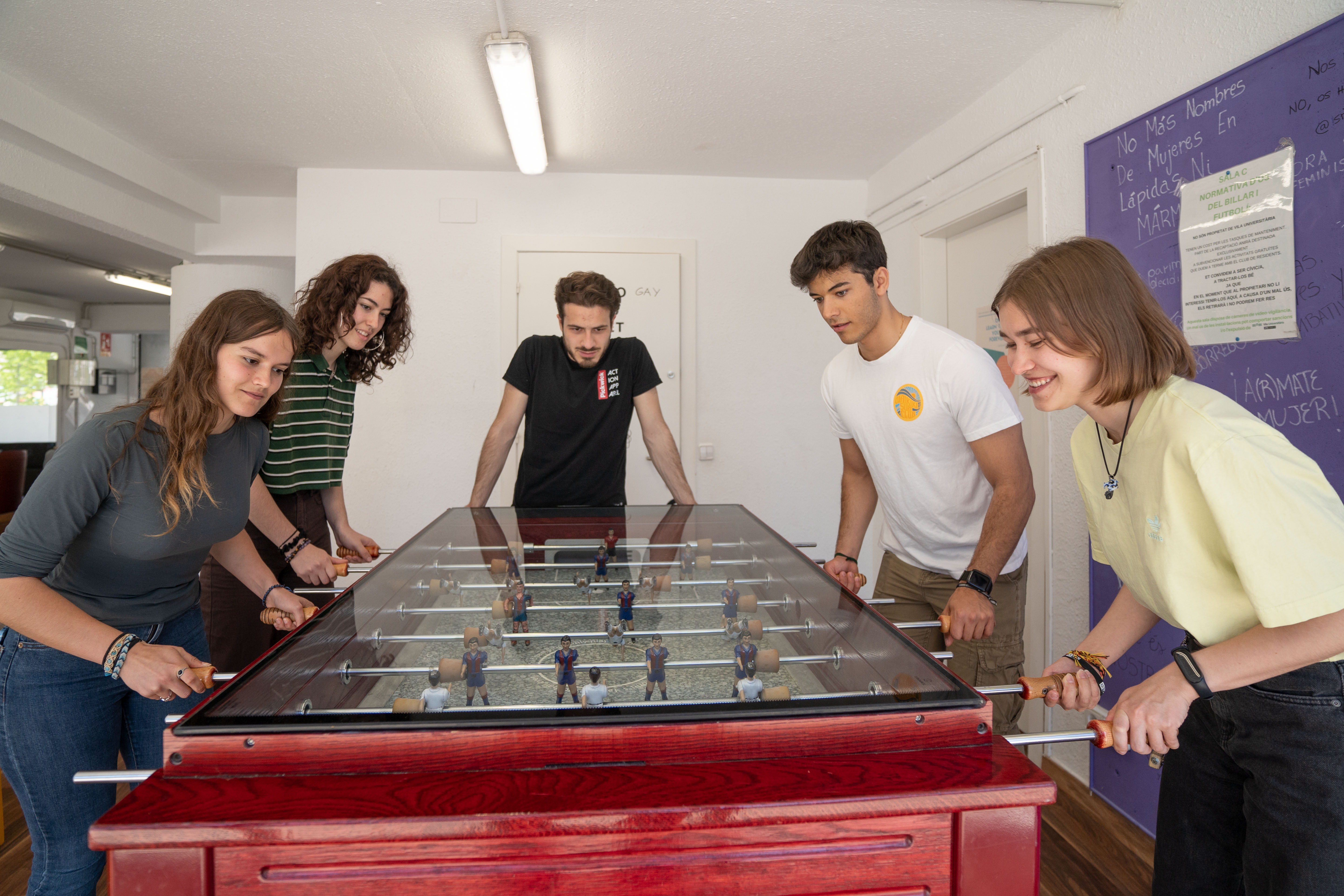 Are you already informed about all the things happening these days in La Vila?
This week we have many activities here in the Vila!
We want you to get to know the Vila and your future flatmates! That's why during the month of September, we organize welcome meetings and different activities every day!
Welcome meetings
They take place on the 5th, 7th, 12th, 14th, and 18th of September in Room C ( it's on the ground floor in Bloc C).
At 6:30 pm there will be an English welcome meeting for international students and at 7:30 pm in Catalan or Spanish.
These meetings will be held by residents of the Vila to give all the information that could be useful, especially for the first days: services, installations, transport, billings, activities…
We're waiting for you!
If you can't come to the meeting, you'll find a lot of information of interest in this guide.
Room C 
This is the room for leisure and fun in the Vila. There's a football table and a pool table. Also, we organize competitions, we organize boardgame nights, ham sessions, paint workshops, dinners, and cooking contests…
There's also a reading room with books available.
Sports
Every day we do a sports activity: football matches, volleyball, basketball and table tennis matches, Zumba classes…. even a scavenger hunt. Also, in every activity, there's a present!
Dinners 
You can meet your neighbors, each week we organize 2 types of dinners:
Dinner with your neighbors: The goal is to organize a dinner with another flat. We only take care of pairing up different flats and you have to make plans for the time and place. To participate, you have to answer a story which will be posted on our Instagram account– indicating your flat number and then look out for the pairs that we'll post and then you have to contact them.
Dinner with your bloc: This dinner is organized once a month and it allows you to socialize with people from your bloc. On our Instagram account, we'll post the place and time of each bloc dinner. We'll supply tables and chairs, but the food has to be brought by you.
Karaoke 
Every Thursday is karaoke night in the Frankfurt of the Vila. We'll publish the time on our Instagram account. It's one of the most popular and well-known activities in the Vila, we're doing them all year! Come and sing to see how your peers do!
Closing of the swimming pool
Friday the 29th of September is the date of the closing of the pool. There'll be music and water games to finish the season!!!
So you don't miss out on any activities here in the vila, follow us on Instagram!